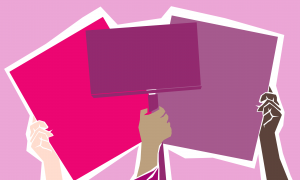 For four and a half years, I have worked to push the agenda of equality in STEM. This is a movement that I hold very close to my heart. It is something I live and breathe, and have lost sleep over.
As this is a cause that I channel a fair amount of fiery passion into, I can't pretend that it doesn't irk me when I see the conversation being highjacked. It may be contradictory for me to say, as I aim to get more people talking about the issues facing women in STEM, but I'm frequently noticing the movement being used as a force of self-promotion. Although I commend anyone, and any company, that shows a commitment towards supporting women in science, I often feel that the support for equality can be utilised for their own gain, rather than for the gain of equality and diversity.
For example, this is not related to STEM, but look at this advert for oven-baked chips:
Partially fried potato products have nothing to do with equality, so why is it being used as a marketing tool?
Shouting from the rooftops that you support equality and diversity is an empty gesture, if in reality your workplace frameworks don't support working parents, you aren't incorporating diversity objectives into your main aims of your organisation, or you aren't investing time in outreach programmes that engage underrepresented groups. Because then, you aren't attempting to raise the profile of the conversation around equality, but you are raising your own profile.
If people and organisations are passionate about equality and diversity, they should be part of ensuring that legalisation is implemented to support these movements. They shouldn't simply be promoting superficial support for equality, but they should be actively pursuing it.
I am all for everyone publicly supporting equality and having excellent representation in media (such as advertising), but it needs to feel like a authentic investment in these attitudes and not a disingenuous plea to create 'shareable content'. This is a position that I feel uncomfortable sitting in, because I want people and companies to be talking about these issues, but I want it to come from a place of genuine intent to better the landscape and not one that aims to gain brownie points and a subsequent increase in following.
Instead of promoting yourself, promote the cause.