Role models are vital in our development, they allow children to ground their interests in a tangible goal. However, if the representation of those around us is limited, what we can see ourselves becoming is restricted.
Broadening the representation of women in our media enables our young girls to see themselves in new roles, especially when they are looking up to women that they can directly identify with. This is vital in ensuring that girls aspire to STEM roles, as it allows them to consider that as a potential career path for them.
The impending 26th anniversary of my existence has made me quite sentimental, and I have been thinking about the people who inspired me. I think of my role models came from a broad sample, and I think that is partly because the lack of women in the media during my childhood meant that I had to get inspiration from where I could.
But there are certainly a few women in STEM who were instrumental in my decision to pursue a career in science.
Michaela Strachan
I have vivid memories of staring up at the television, whilst sitting crossed-legged on a wine red carpet, watching Michaela Strachan on the Really Wild Show. I was adamant that I wanted to be just like her – I even wanted to wear a paw print necklace, parachute trousers and camouflage tops. I think she played a really big role in my aspirations to become a scientist, especially my interest in biology.
Dr Alice Roberts
As I matured, and my preferences for children's TV programmes dwindled, but another woman in STEM on the BBC became a huge inspiration to me. Dr Alice Roberts' programmes about anatomy fascinated me and, as someone who wanted to study at Cardiff University like she did, I latched onto her as a role model.
She still remains someone that I admire to this very day.
Mam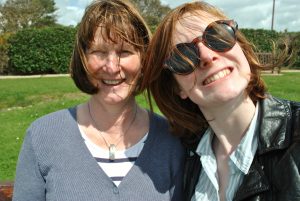 And finally, and probably the most influential woman in my life, my mother. My mum is sharp-minded, kind-hearted and empathic beyond belief. She nurtured me not only physically, but she's also nurtured my personality. I was a stubborn little girl, sometimes shy, but 'bossy'. I treasure that that wasn't discouraged, because my defiance has become my greatest tool in life, and she propagated it.
She taught me how to be compassionate, she taught me to be fierce and she taught me to be thrifty; three attributes that have served me well in life.
Please leave a comment with the people who inspired you, I would love to know.