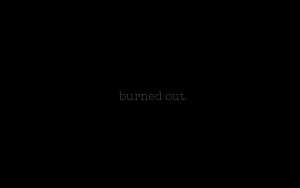 Forgive me for the lack of STEM related content, but it's my blog and I'll cry if I want to (cry if I want to).
They say there are ten signs that you are burning out, but I feel like I have experienced twenty. And I have exhausted myself on every realm – mental, emotional and physical. Because having stubborn ambition and unadulterated dedication can come at a price.
I've been chasing my career goals and aspirations with the tenacity only a redhead could muster; working a full-time job, managing a blog with a workload the equivalent of a part-time job, training in the gym five days a week, starting new projects whilst maintaining old ones, and trying to push myself into filmmaking and presenting (all whilst maintaining a social life and trying to spend time with family). I use my annual leave to catch up with my blog work or do blog events, or even help me to achieve the next stage in my goals, meaning there are no holidays and there is no time off.
The last two years have been filled with great news and fantastic experiences, sadly this has happened on a backdrop of bad news and hard times. None the less, I haven't stopped and I have soldiered on to keep up with my upward trajectory. But this has meant that I have had to push 'dealing with the bad news' to the bottom of a To Do list that I never get round to.
Despite these bits of bad news and hard times, I haven't stopped and I've still been plodding along. But it's time to admit that plodding along isn't sustainable, and this 'plodding along' is slowly but surely become a grind to a halt.
Burning out has forced me to stop, its twisted my arm until I admitted that enough is enough. And although it pains me to say it and I say it with gritted teeth, my resolution for the New Year is to slow down.
So if you want to find me, I will be up a mountain somewhere breathing in some fresh air.
Peace out.