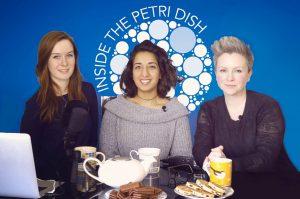 Radio presenter and voice actor, Vicki Blight, science filmmaker and women in STEM champion, Tay-Yibah Aziz, and STEMinist blogger, Alice Gray, are joining forces to dissect science and take a look down the microscope at controversial topics within science in the new Inside The Petri Dish podcast.
Vicki and Tay will set Alice a challenge, getting her to find out more about a topic by interviewing scientists and experts, before bringing her findings back to them to discuss in a concessionary episode.
Inside The Podcast is set to be launched on Sunday November 26 at 5pm, kicking off the podcast by investigating immunisations and vaccinations.