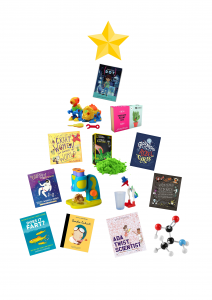 It is that time of year again, where some parents are pulling out their hair trying to find gender-neutral toys for stocking fillers.
In honour of this festive period and to help make life a little easier, I have put together another STEM Christmas Gift Guide, with special features of books that would make amazing presents for young boys and girls to help increase the representation of women in STEM on their bookshelf.
Detective Dot – "It's not magic," said Dot "Just code."
Nine-year-old tech whizz Detective Dot has a dangerous new mission from the Children's Intelligence Agency – investigate teenage trillionaire Shelly Belly. Why are all her products so cheap, and where does she make them? Dot's going to have to use all her coding skills, cunning and gadgets to crack the case.
An awesome book (and activity pack) that introduces the concepts of coding to kids and reinforcing what they are learning in school, whilst encouraging children to think about how products are made and ethical practices in industry. It does a lot in one book, and is beautifully illustrated.
SUPRBIRD Dinosaur Play 2 Sets, Assemble and Disassemble Dinosaurs DIY – It is never to early for STEM learning. These gender-neutral dinosaur toys are suitable for children age three and up.
Tech Will Save Us DIY Thirsty Plant Kit – Biology and engineering, the perfect gift for an eager mind. The kit allows kids to make a moisture sensor, power it with solar energy, and to your plants happy. It is suitable for children aged 8 and over.
My First Microscope – A fully functioning microscope for little hands.
National Geographic Play Sand – This is mainly included in the list in case my friends see it, because I think its cool and would like some. And a kid would probably think it was so too.
Good Night Stories for Rebel Girls – This book showcases some of the amazing women from history and today. This children's book is so good that I have it.
Fantastically Great Women Who Changed The World – The perfect gift for the Fantastically Great Women in your life. From Coco Chanel to Rosa Parks, Fantastically Great Women Who Changed the World is bursting full of astounding facts and incredible artwork on some of the most brilliant women who helped shape the world we live in.
Women in Science: 50 Fearless Pioneers Who Changed the World – A gloriously illustrated celebration of trailblazing women. Simple as.
A Galaxy of Her Own: Amazing Stories of Women in Space – "Will suitably inspire trailblazers of all ages"
A must-have book for ambitious girls – it tells fifty stories of inspirational women who have been fundamental to the story of humans in space.
Amelia Earhart (Little People, Big Dreams) – Any book from this series would be a great edition to any bookshelf. 
In the Little People, Big Dreams series, discover the lives of outstanding people from designers and artists to scientists. All of them went on to achieve incredible things, yet all of them began life as a little child with a dream.
Ada Twist, Scientist – Determined Ada Twist, with her boundless curiosity for science and love of the question Why?
Does It Fart?: The Definitive Field Guide to Animal Flatulence – Dogs do it. Millipedes do it. Dinosaurs did it. You do it.
Put this in a stocking this Christmas, I can guarantee that you will glance through it first and learn something new!
Molymods – just 'cuz. I always wanted to play with these in chemistry class, and why not use them to decorate the tree this year and make a chemistree.
Wow Stuff Science Museum Famous Drinking Bird – Learn about perpetual motion and re-create the 'Any Key' scene from the Simpsons.