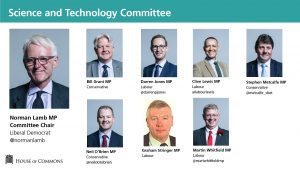 What's that you can hear? That is the sound of scientists across the UK slamming their heads against a desk repeatedly, because today the House of Commons announced the members of the Science and Technology Committee, and it doesn't look good.
The Science and Technology Committee is in place to inform governmental policy and decision-making, and to ensure that these processes are founded on good science and evidence. You can imagine that for such a committee, devised to lend their expertise to critique and hold government to account surrounding matters concerning science in the UK, the House of Commons would be expected to gather MPs with scientific experience from diverse backgrounds. This would be the logical answer, to ensure that the issues facing science in its lack of diversity, climate change and Brexit, are properly addressed with careful consideration and experience. However, the Science and Technology Committee that was revealed today was as a sea of men, with only two committee members having any experience of science.
The committee made up of Norman Lamb MP, Bill Grant MP, Darren Jones MP, Clive Lewis MP, Stephen Metcalfe MP, Neil O'Brien MP, Graham Stringer MP and Martin Whitfield MP, lacks the diversity and background that is required to properly fulfil its role. With one of the main problems facing STEM industries being the lack of women, how can we expect this committee to consider this issue and value this concern when there isn't any women sitting on the committee to provide this voice?
Another great issue facing science (and the world) is climate change. Therefore we should all feel safe in the knowledge that one of the newly announced members of the Science and Technology Committee is a climate change denier. Despite Graham Stringer, Labour MP, constituting 50% of the scientifically trained members on this committee, with a degree in Chemistry, Graham also is a trustee of the Nigel Lawson's Global Warming Policy Foundation, a group that deny the dangers of climate change.
The reveal of the new committee isn't reassuring, in the face of the threat of Brexit on STEM industries and the issues within science (such as the lack of women), the presence of a diverse and experienced committee would help to reassure STEM workers that the industry's best interests would be looked after. However, this is not the case.
With a committee lacking the knowledge needed to fully understand science in the UK or the barriers that lead to inequality in STEM, how can we be sure that the Science and Technology Committee can do its job effectively? I am certainly not convinced.