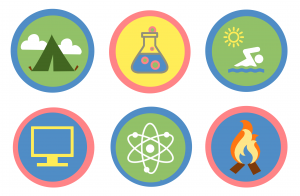 The Girl Scouts of the USA are encouraging their scouts to 'be prepared' for careers in STEM, by adding 23 new badges to be earned in science, technology, engineering and mathematics. With a severe lack of girls taking on STEM subjects after compulsory education, this is a fantastic move from the Girl Scouts. The new badges can be earned through programming robots, writing code, designing model race cards and being environmentally friendly during camping trips. This initiative was put in place by the Girl Scouts CEO, Sylvia Acevedo, to improve the exposure of STEM subjects to young girls, helping them to realise their potential in the areas.
In the UK, the equivalent of the Girls Scouts are the Brownie and Girl Guide groups, who can earn badges in many areas including cooking, crafts, world cultures, safety and science.
Traditionally these girl's groups are often associated with crafting and community activities, and it is amazing to see that they are changing to encouraging young girls to interact with science. Young girls are equally as excited about science at a young age, but simply don't see themselves in the industry and often aren't inspired to pursue that career. By bringing science into their everyday lives, it helps to cement their confidence in their STEM abilities and help them to see their potential in these careers.
When I was younger, I was part of the local Brownie group and left fairly quickly as I found it completely uninspiring. I was a creative and an artistic child, but really wanted to learn new things and I think I would have enjoyed learning outdoor skills like map reading – it is certainly something I wish I knew now. Back then, girls didn't really join the Scouts, and (in my experience) Brownie groups mainly did arts, crafts and put on plays for each other, which didn't give me any new skills or put me in new roles outside of the stereotypes for girls. So I am so pleased to hear that the Girl Scouts and Girl Guide groups are making such an effort to encourage girls to think outside of typical gender roles, and work towards earning badges in science, technology, engineering and maths.