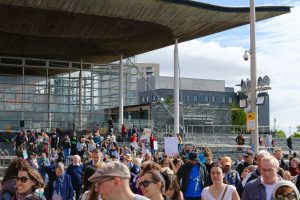 April 22, World Earth Day, and the day tens of thousands of scientists all over the world took to the streets to March for Science. Scientists and supporters of science picked up placards and donned their white coats to join in the rally happening across the world, to address concerns for scientific research in the light of Donald Trump and Brexit.
I joined in the demonstration in Cardiff, starting at the Senedd in Cardiff Bay and marching to Techniquest Science Discovery Centre. First listening to some amazing speeches from science minds and the march's organisers, addressing the issues that the community of scientists were here to support. The take home messages from Cardiff March for Science were:
Science in a global activity
"Science transcends boundaries, is it not a luxury but a global activity." – Professor Richard Ketlow, Foreign Secretary of the Royal Society.
Everyone is interested in science and can bring us together, regardless of proximity. I thought this idea was particularly poignant in the light of Brexit and the triggering of article 50. Science depends on freedom of movement, as this allows scientists to work on the projects they are specialists in and that they can contribute to. As Britain leaves the EU, Britain moves into uncertain times for science. As science in the UK relies on immigration, and the potential for barriers in the movement of the science workforce is worrying.
Science in a global activity, and it thrives on collaboration.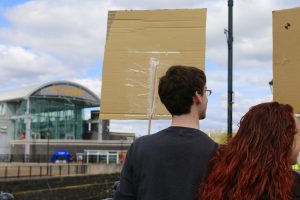 Science and politics
Andrew Haigh, UKIP's national organiser for Wales, sells a product called "Aerobic Oxygen". It is an industrial-strength bleach product that is told to have health benefits if used when cleaning your teeth. This is a man who wants to influence policy in Wales, including science policy. This is obviously incredibly concerning.
The influence in science is crucial, as the miss-informed cannot create well-informed policies.
How can we expect politicians and policy-makers to form the best political frameworks for Britain, when they lack a full understanding of issues like climate change, research in health care and the science community? We need to integrate science research and policy-making, helping to make better political choices about the world we live in, which is shaped by science.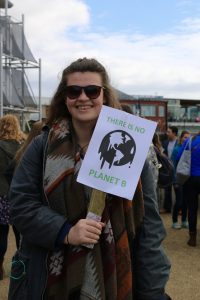 STEM the spread of incorrect information
We all know that bad news will spread more quickly than good news, and this has certainly been witnessed with incorrect facts spreading like wild fire. We all remember the so-called link between MMR and Autism, which now leaves many children with inoculations against measles, mumps and rubella.
Science should influence news and media, to prevent the spread of incorrect information and help generate an informed general public, who can make informed decisions.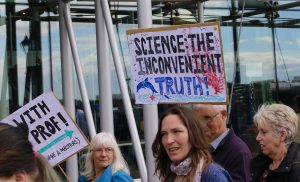 Science and diversity
The number of women and girls in STEM has not changed, despite all the work that women in the science community are doing to help this. We need to continue striving towards equality and diversity in STEM, to better the workforce for women and help girls reach their full potential, but also better the quality of science research itself.
As hundred of marches for science happen across the globe, I hope this brings people's attention to how misinformed politicians can lead to misinformed policies, which will not only impact scientific research community itself, but also how science research moulds our modern society.