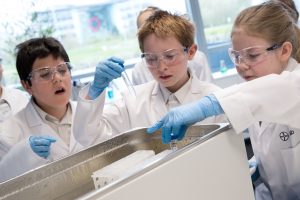 Last week, a new state-of-the-art school laboratory was launched, with the aim of encouraging every child to get involved with STEM. As part of an £11m investment, Bayer opened Baylab, which aims to inspire young people to pursue opportunities in life science and strengthen the UK STEM talent pool from the bottom up – highlighting the access gap for children from a low-income background.
There is a huge lack of diversity in science, which is something I talk a lot of on my blog in terms of gender, but economic background is also an issue close to my heart. During my education, being from a working-class background put me at a statistical disadvantage to my more economically-advantaged peers – as there are stark differences in attitudes and experiences between affluent and poorer areas when it comes to interacting with science at school. Research by Bayer showed that in affluent areas, 14% of teachers said that a scientist was something the children aspired to be, whereas this was only 7% in poorer areas.
The Wellcome Trust revealed that around one third of GCSE students enjoy access to 'hands-on' practical science lessons less than once a month, with poorest pupils being the most likely to miss out, demonstrating how easy it is for some young people face barriers in their STEM education.
Children from poorer areas are less likely to get the hands-on STEM experiences at school, which are both educational and inspirational. And therefore, Baylab aimed to support teachers with delivering the national curriculum and fill the 'hands-on' science gap which can occur due to time and cost constraints in the classroom.
Baylab launched on the March 29th, opening its experiments to the public – ranging from giving children the chance to extract their own DNA to characterising the proteins of an enzyme, trying their hand as a formulation scientist and even working through crime scene forensics. KS1-4 students of all ages and abilities were invited to work with professional scientists on real-life experiments to show them how science is used in our everyday lives.
Alongside the Baylab, Bayer has launched the Inspiration Space, a high-tech interactive exhibition; through the latest motion sensor, touch technology, and body scanners, students will understand what constitutes sustainable food and provide informative insight into the complexity of the human body in relation to maintaining a healthy heart, skin and wound care.
These sorts of projects are vital in ensuring equity of access to STEM subjects for children across the UK, as research shows that we have a long way to go in ensuring that girls and children from a low-income background are given the same opportunities – and to help them realise their full potential in a future career in STEM.
For more information and to register a school with Baylab, headteachers, science coordinators, teachers and parents of children in KS1-4 should visit www.bayer.co.uk/en/baylab