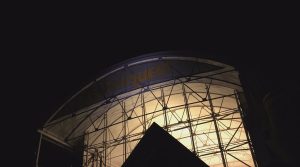 This month I got the chance to be the Simon Cowell of sci-comms, judging in the Welsh regional finals of FameLab at Techniquest to find the up-and-coming science communicators.
I was joined on the judging panel by Dr Tim Cockerill and Beth Evans, to judge the contestants on their charisma, clarity and content – and believe me it was incredibly hard!
All of the contestants were amazing science communicators, who could turn something as complex as brain surgery or time travel into an understandable and engaging presentation. They had three minutes to present a topic of scientific research to the gallery and the panel of judges, and whoever was successful would go on to compete in the UK wide final.
I was incredibly impressed with the standard, and how well humour and narrative was used to explain very difficult scientific topics (including the physics of time), making the research understandable for the general public, and an audience of a variety of ages and levels of scientific understanding.
This made judging the winners very hard, and it was a close contest. The panel had to choose a wild card winner and an overall winner, from the contestants who came from all over Wales.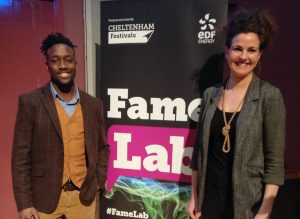 After deliberation, we decided that our wild card would be awarded to the charismatic Daniel Olaiya, a neurosurgeon who gave an engaging presentation about Parkinson's disease, the midbrain and Deep Brain Stimulation; which featured a clever use of dance moves and song lyrics to get his points across.
The overall winner of the FameLab regional final was awarded to Carol Glover, who told a humorous story of deterring a thief from stealing a bike by educating him about corrosive worms. Her use of comedy and a storyline helped to make the topic clear and understandable within the three minute time limit.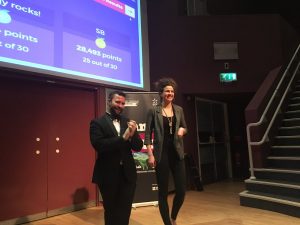 I came away from the event impressed by everyone. All of the regional finalists were fantastic, and it was a truly hard decision to make, as all of the contestants were knowledgable in their field and effortlessly made their topics understandable and exciting – the key to science communication!